Sandbanks Sprint Triathlon
Sunday 22nd May 2022
For Athletes 16+
Triathlon – 750m Sea Swim, 26km Bike, 5km Beach Run
Aquathlon 750m Sea Swim & 5km Beach Run
Aquabike 750m Sea Swim & 26km Bike
TO ENTER –
Online entry is available at the bottom of the page.
We will start a waiting list once the event is full.
VENUE
Sandbanks Beach, Banks Road, Poole, Dorset BH13 7QQ
DIRECTIONS
From Dorchester
Take B1350 to A35, follow A35 & A350 to Sandbanks Road B3369, follow onto Banks Road. Car Park is on the left.
From London
Take M3 to A31 in Hampshire, follow A31, A338 and B3065 to Banks Road B3369, Car Park is on the left.
THE RACE
750m Sea Swim – 26km Bike – 5km Run.
The race will be run in accordance with British Triathlon Rules.
REGISTRATION TIME – 0500 – 5:30am
RACE BRIEFING – 0515 in Transition
SWIM START – 1st wave will start at 0545
You will swim roughly 50m out to a large pink buoy before taking a right turn.
Swim Cut Off 35mins
Lifeguard Cover is kindly supplied by Poole RLSS.
If you find yourself in difficulty you are recommended to roll onto your back and raise 1 arm.
THE ROUTE
The Adult Race takes place on a well marshalled route, but we do advise that you have familiarised yourself with the route prior to racing. The Highway Code must be adhered to at all times.
https://www.plotaroute.com/route/338838
Bike Cut Off 1hr 40mins
The 5km Run course is fabulous for spectators as it is an out & back beach & prom run.
Run cut off 55mins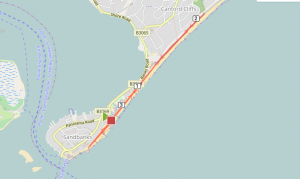 PRESENTATION
This year due to covid restrictions we will not have any presentations. All race results will be put online and emailed out. Prizes will be sent the following week.
SPONSORS
Rockets & Rascals Poole
Muc-Off
Tapper Funeral Service
PRIZES
1st, 2nd and 3rd Place Male and Female Triathlon Finishers will receive their prizes 15 minutes after the last Adult Finisher.
All Finishers will receive a Race Memento
There will be prizes or the fastest local athlete, fastest run splits & spot prizes.
POST RACE MASSAGE
Complimentary Post Race Massage will be available from the therapists from Total Therapy.
COURSE RECORD
Male – James Gilfillan 1.16.11
Female – Ceris Styler 1.24.56
Mixed Relay – Kevin Green, Thomas & Kate Cadbury 1.25.29
RESULTS
Results will be on the Results Page on the Website by Monday Lunchtime.